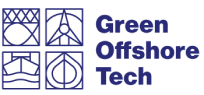 GreenOffshoreTech
INNOSUP/HORIZON2020
GreenOffshoreTech is a Cluster Facilitated Project with the purpose of supporting innovation in Small and Medium-sized Enterprises (SMEs), fostering development of the emerging Blue Economy industries by enabling new cross-sectorial and cross-border value chains based on shared challenges and the deployment of key enabling technologies (KET).
GreenOffshoreTech will facilitate the creation of new products, processes or services with the ambition to make offshore production and transport green, clean and sustainable towards a resource-efficient economy and EU GreenDeal, while facing Reindustrialization.
3 million euros to support SMEs
GreenOffshoreTech will boost innovation by directly supporting at least 82 SMEs and 82 SMEs innovative projects aiming at developing new innovative products, processes or services:
1. Direct financial support to SMEs through a competitive Call of Proposal for innovation projects in relevant topics;
2. A range of dedicated and tailored Business Support Services to the winner SMEs.